THERAGUN G3™
The TheraGun G3 is a versatile, powerful, and easy to use vibration therapy device, offering 16mm of amplitude, 2-speed functionality, a built-in battery, and a new proprietary gear box that reduces the sound of the motor by 50%. The compact, ergonomic design is also compatible with (4) Pro Attachment Heads, all of which are included with the kit: Dampener, Cone, Standard Ball, Thumb.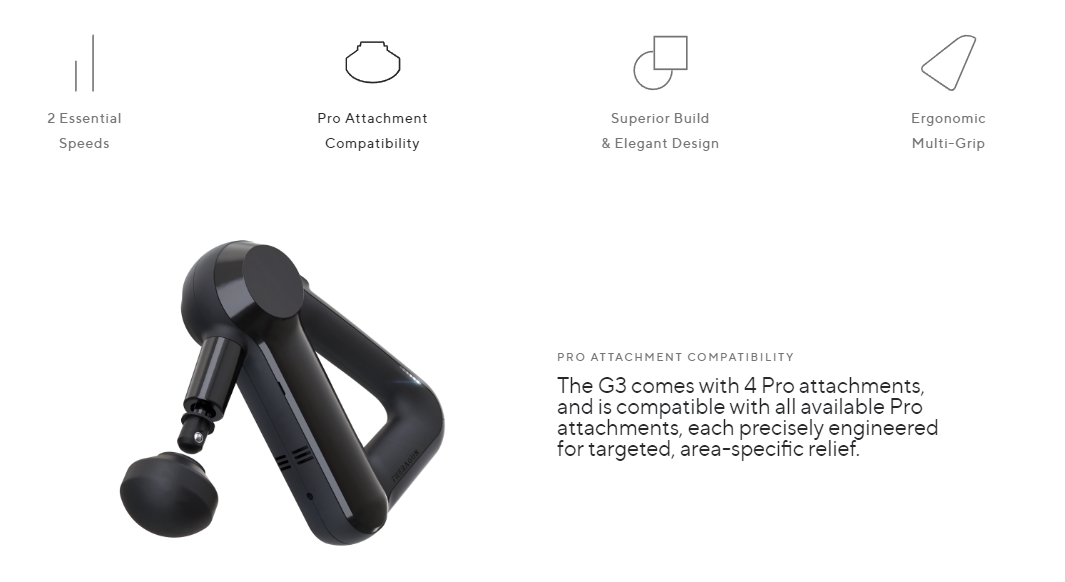 The percussive therapy of the TheraGun G3, through regular use, can help reduce common muscle and joint pain, relieve spasms, release knots, break up scar tissue, and improve an athlete's overall mobility / range of motion.
Using the Theragun
At just under 3 LBS in weight and roughly 10" in length, the TheraGun G3 is fully portable and easy for anyone to use. Athletes new to the G3 should start by slowly applying light pressure and moving the tool across the body 60-90 seconds per body part. A full body session should not exceed 15 minutes. Treat yourself 2-3 times per day.
Your Theragun G3 ships standard with:
- 1 Travel Case
- 1 Power Adapter
- 1 Dampener Attachment - for tender areas or near bones
- 1 Standard Ball Attachment - for overall use
- 1 Thumb Attachment - for lower back and trigger point therapy
- 1 Cone Attachment - for pinpoint muscle treatment
Additional Specifications:
- Handheld Vibration Therapy Device
- Professional-grade plastic composite construction with industrial-grade Japanese motor
- Weight: 2.7 LBS
- Dimensions: 250mm x 200mm x 70mm
- Amplitude: 16mm
- Stall Force: 40 LBS
- 2 Speeds: 29 and 40 percussions per second
- Built-In Battery Life: 60 minutes