THERAGUN LIV™
The liv vibration therapy device is TheraGun's cost-efficient, extra-lightweight model for basic everyday use. Like the TheraGun G3 and G3 Pro, it's made from a professional-grade plastic composite with a surprisingly quiet industrial-grade Japanese motor and multi-grip ergonomic handle. Great for general muscle recovery and stress reduction, the liv also features 16mm of amplitude, a built-in battery, and (2) specialized liv attachment heads: a standard ball and dampener.
The percussive therapy of the TheraGun liv, through regular use, can help reduce common muscle and joint pain, relieve spasms, release knots, break up scar tissue, and improve an athlete's overall mobility / range of motion.
Using the TheraGun Liv
At 2.5 LBS and roughly 9" in length, the liv is the lightest and smallest TheraGun product; easy to toss in a gym bag. Athletes new to percussive therapy should start by slowly applying light pressure and moving the tool across the body 60-90 seconds per body part. A full body session should not exceed 15 minutes. Treat yourself 2-3 times per day.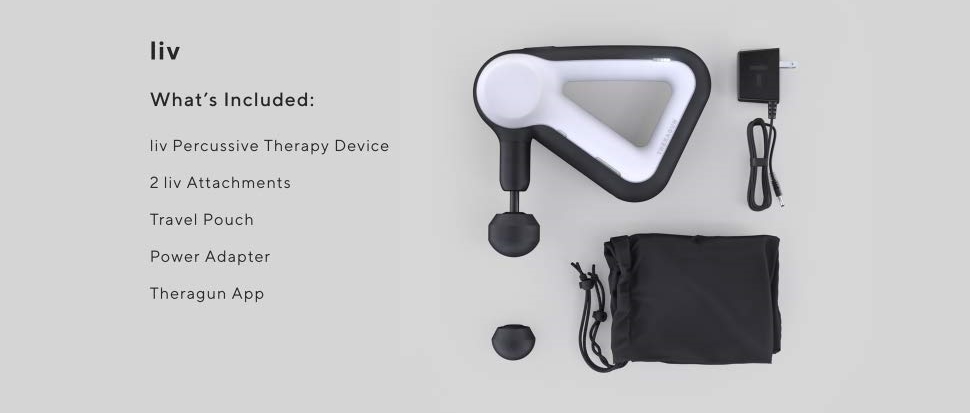 Your TheraGun Liv ships standard with:
- 1 Travel Pouch
- 1 Power Adapter
- 1 Dampener Attachment - for tender areas or near bones
- 1 Standard Ball Attachment - for overall use
Additional Specifications:
- Handheld Vibration Therapy Device
- Professional-grade plastic composite construction with industrial-grade Japanese motor
- Weight: 2.5 LBS
- Dimensions: 234mm x 196mm x 70mm
- Amplitude: 16mm
- Stall Force: 30 LBS
- 1 Speed: 40 percussions per second
- Built-In Battery Life: 45 minutes
- Color: White